Electric Vehicles – Sahara EVOLS


First Time Ever - The Complete Ecosystem for Electric Vehicles in India

SAHARA EVOLS is an initiative of Sahara India Pariwar, towards providing clean, green and more economical modes of transport and has rolled out the largest range of Electric Vehicles in India.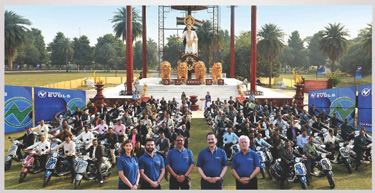 Growth has been the key theme of Sahara Evols' journey so far. Strong leadership and corporate governance has been Evols' hall mark. Conceptualised in early 2018, the Company came into being on 8th August, 2018. In very short span of time, Sahara Evols has managed to become a well-recognised brand in the Indian EV Industry, announcing association with eminent brands like Hero Electric, Okinawa, Cosbike and many more, helping to make "electric vehicle" a household name to its million plus potential customer-base to the lesser known Tier-II and Tier-III cities of India. The endeavour is to help and uplift the entire ecosystem by not only promoting the established brands but also to assist lesser known brands like Varcas and Victory (many more) to help them achieve a sustainable market share.

EVOLS Journey

Launched in December 2018, it has registered 101 pre-bookings on Day 1 and handed over vehicles successfully.
In May'19, organised an Electric Vehicle exhibition to demonstrate the range of EVs under Sahara Evols banner.
In June'19, organised and conducted Uttar Pradesh's first ever "Electric Vehicle Expo" in Sahara Sheher.
In August'19, we planted 1008 trees as we plant a tree on every sale of an EV.
In October'19, we crossed the land mark of 100 Authorised Dealer/Sahyogi Network
By Dipawali 2019 we have booked total order of more than 5500 electric vehicles through Para banking team and Retails Operations, out of which we have successfully delivered more than 2400 electric vehicle to our satisfied customers through our channel.
In April'20 we introduced Sahayak plan and crossed the landmark of 500 Sahayak by September'20
By October'20 we have 200+ Authorised Dealer/Sahyogi Network, 330+ Authorised Service Network
Right now we have 20 Electric 2-wheeler and 9 Electric 3-wheeler variants and are associated with 35+ OEMs (Original Equipment Manufacturer)
Currently we have made our presence in more than 165 major cities of 23 States & UTs in India.
The company is in process to get into Rental, Delivery and Battery business.

The vision behind SAHARA EVOLS is not just to introduce a product portfolio but also to create an entire eco-system to support the paradigm-shift in the automobile industry and provide support facilities like a network of 'Battery Charging and Swapping Stations' for customers' convenience in the times ahead.

Log on to www.saharaevols.com/ for more details