Entertainment Channel
SAHARA ONE: 24 hours digitally encrypted Entertainment Channel spread globally providing a strong mix of fiction and non-fiction entertainment. It is popular for its wholesome family entertainment programmes, dramas, mythological series and much more.


Movie Channel
24 hours digitally encrypted Hindi Movie Channel, which aims to offer movies with a dose of fun and lighter moments.

FIRANGI: 24 hours movie channel showing world cinema dubbed in Hindi



MOTION PICTURES PRODUCTION
SAHARA MOVIE STUDIOS : A platform for unique and quality cinema in its quest to entertain all kind of audiences with big budget blockbusters as well as medium budget quality productions. It has produced over 35 films and has won 5 national awards.


VISUAL EFFECTS STUDIO
Golden Line Studios Private Limited (formerly known as Geon Studios Private Limited), situated at SEEPZ - SEZ, Andheri East, Mumbai provides for pre & post production facilities, VFX, Animation and Stereoscopic Services for films, television and commercials in the international and domestic markets.
Cinema Halls
Developing the Largest Chain of Multiplexes in India. Around 230x3 screens throughout the country.


Film City
Developing world-class film city on around 100 acres of land with an investment of `

180 crores approx. with an Academy.


National News channel
SAMAY : Round-the-clock free-to-air National Hindi news channel.

Urdu News Channel
AALAMI SAMAY : India's first private National Urdu news channel.
Regional News Channel
SAHARA SAMAY
SAHARA SAMAY : Round-the-clock 30 city specific Regional news channels.



Hindi Daily
RASHTRIYA SAHARA
43 Editions of Hindi Daily Newspaper with 7 Printing Centers.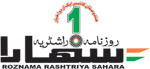 Urdu Daily
ROZNAMA RASHTRIYA SAHARA
15 Editions of Urdu Daily Newspaper with 9 Printing Centers.



Urdu Weekly
AALMI SAHARA
AALMI SAHARA : 72 pages International Urdu Weekly.
News Section
96 Bureaus, 2308 Correspondents across the globe & over 1500 V-SATs for news collection.