Sports

Keeping Spirits High
Sahara India Pariwar's much fabled celebration of the spirit of sports is rooted in its unwavering belief that sports must be used as an enabling medium to serve the cause of fostering better relations between people and nations. According to Saharasri, "if we see the history in the olden days, there used to be regular fights and wars all over the world. I strongly feel that human beings have a very strong competitive instinct in them and they all want to get satisfaction out of that particular instinct. Probably that was the reason why people used to fight, there used to be war heroes and in every area there used to be a war hero. I strongly feel and you shall all agree, that gradually sports took over, and have given solace and satisfaction to that competitive instinct. In my opinion, if you talk about the peaceful co-existence of human society, sports has played a huge role, but it has taken its own time".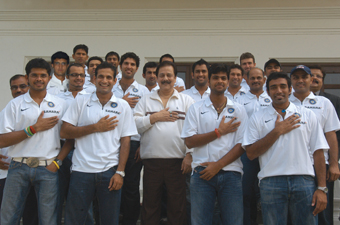 Sahara India Pariwar is currently serving its third consecutive term as the official sponsor of Indian Cricket Team – a proud association that began in 2001. It is therefore befitting that a privileged the opportunity was offered to us to involve ourselves in the making of the cricket stadium at Pune which has been named as the "Subrata Roy Sahara Stadium.
Sahara also officially sponsors Asia's oldest football league – The Calcutta Football League, the Senior Indian Hockey Team since the year 2003, and has patronized the annual 'Sheesh Mahal Tournament' which is one of the premier and the oldest summer cricket tournaments of India. It has also been the official partner to the Indian Contingent for the Athens Olympics 2004. Sahara also mobilized its resources to contribute to the success of the Delhi Commonwealth Games, 2010. Sahara has adopted 95 promising individuals from 6 Olympic disciplines, namely Wrestling, Boxing, Shooting, Archery, Track & Field and Tennis until and after the 2012 London Olympics with a view to help India claim more medals in the international sporting arena. The sportspersons who receive our 360 degree support won 42 medals at the Commonwealth Games 2010 and 20 medals at the Asian Games 2010. Sahara's support to the National Championships of Wrestling, Boxing, Shooting and Archery augers well for the future of these disciplines in the Indian sporting landscape. The enviable portfolio of our sporting initiatives now also includes the adoption of volleyball.
Sahara India Pariwar's enduring saga of sports promotion is reflected well through its sponsorship of major events – the historic Sahara Cup Cricket at Toronto, Canada in 1996, 1997 and 1998; Sahara India Gold Cup, Indira Gandhi Hockey (Delhi, 1995);World Junior Powerlifting (Delhi, 1995); Asia Cup Tennis (Delhi, 1997); Sahara Uttar Pradesh Sports (Lucknow, 1999); Akhil Bhartiya Table Tennis Tournament (2003); Women Cricket Test Match Series (India Vs. England, 2003); Sahara Bucchi Babu Cricket Tournament (Chennai, 2002, 2003 & 2004);SAARC Inter Airline Cricket Tournament (Kathmandu, 2003); Under-19 One-day International Cricket Series (Nepal Vs. India, 2003); Golf Achievers Cup (2003); and Commonwealth Under-19 Cricket Tournament are among the many sporting initiatives launched under the auspices of Sahara India Pariwar. That the prestigious Queen's baton of the Delhi Commonwealth Games 2010 was offered a rousing reception by Saharasri during its passage through Lucknow bears testimony to our universal vision of sports.
The Pariwar inaugurated India's biggest sports awards, Sahara India Sports Awards in 2009 to accord recognition and encouragement to India's finest sporting talent. The recent purchase of an equal majority stake in the Formula 1 team Force India - which has subsequently been renamed as Sahara Force India, extends the ambit of our sport promotion to a global scale The unifying spirit of universal brotherhood is best served when sports is accorded a greater role in our lives. These sentiments receive a beautiful expression in the words of Hon'ble Saharasri, "Sports is not only an avenue for entertainment or physical or mental exercise, but is perhaps much more than that."